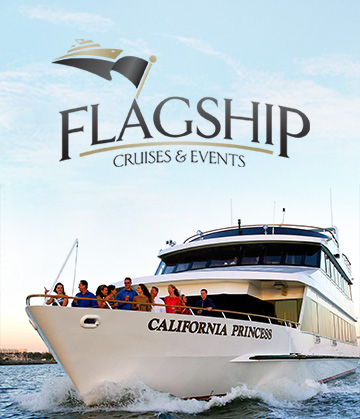 A Century On San Diego Bay
Flagship's story traces back almost as far as San Diego itself. Just like our thriving city, Flagship has been shaped by many innovations and transformations over the past century. We are always striving to better serve the needs of our guests, and humbled by the millions and millions of passengers who chose to make memories on our yachts and ferries. Each new departure is a celebration of San Diego's past, its future, and most importantly, the present.
Here's the story of how the Engel family came to own and build San Diego's finest fleet.
---
1885 - 1888
Ferry services begin in San Diego with trips from Downtown to Roseville, Ballast Point and Ocean Beach.
1887
Construction begins on the Hotel del Coronado. Open for business in February 1888, the ferry carries passengers to the hotel along with the prospective land owners it lured to the area.
1915
Our company begins as the Star & Crescent Boat Company, after the family-owned Star Boat Company, operators of San Diego's first harbor excursions, merged with its main competitor, Ralph Chandler's Crescent Boat Company. The new 16-boat fleet provides transportation between Roseville, Fort Rosecrans, Imperial Beach, Tijuana and the Coronado Islands, and deluxe harbor tours for only 50 cents.
1916
The two-deck ferry Roseville offers cruises to Roseville Pier and Ballroom for an evening of dancing.
1918
Ferry service begins to Coronado's North Island Naval Air Station. With a cost of 5 cents per ride, the popular ferry earned the nickname, "Nickel-Snatcher."
1935
The Star & Crescent's tug Palomar completes the longest tow in company history: a 1440-mile tow of the tuna boat Sea Tern from Acapulco, Mexico to San Diego.
1941
The new Silvergate is launched, engineered to help manage the increased load of passengers to the Naval Air Station. At peak hours, demand still exceeded its capacity of 350 passengers and the Star & Crescent commissioned five more vessels to be constructed.
1942
The company donates the harbor excursion boat Estrella to the government for the purpose to ferrying defense workers and members of the armed forces.
1955
Six years after commercial hunting of gray whales is banned, the world's first water-based whale watching tours begin in San Diego, launching a global industry. For $1, passengers could take a boat trip to experience an up-close view of the whales.
1957
Marietta joins the fleet. One of the largest steam ships on the West Coast, she was designed to comfortably carry 550 passengers on a two-hour narrated harbor tour.
1958
We launch San Diego's first nighttime harbor tours and dinner cruises, departing Friday and Saturday evenings at 8:30. The city council grants the company a license for dining and dancing while cruising the bay.
1964
The fleet expands again. The spacious Cabrilllo, designed to carry 350 passengers, helps to meet increasing demand for daily excursions around the harbor. In 1968, the hull is extended 20 feet, bringing her total length to 88 feet.
1969
The completion of the Coronado Bridge forces our ferry service to come to a halt after 51 years in operation. Under California law, ferry boats are banned from operating within 10 miles of a toll crossing.
1970s
The Engel family establishes a shipyard in San Diego. The family owns and operates several shipyards in major West Coast ports.
1986
The Engel brothers – Art, Herb and David – purchase The Star & Crescent Boat Company. The Engels see San Diego's projected growth and natural beauty as an opportunity to build upon the company's rich history.
1987
With construction fees paid off on the Coronado Bridge, the toll is removed and our ferry service resumes.
1988
Spirit of San Diego joins the fleet, a 146-foot, three-deck vessel with a 2,700 sq. foot observation deck, setting the new standard for harbor tours in San Diego.
1990
The Star & Crescent Boat Company changes its name to San Diego Harbor Excursion.
1999
California Princess is added to the fleet, with 1,600 sq. foot sundeck, sweeping ballroom staircase, culinary-grade galley and full-service granite bar.
2000
Quiet Heart joins the fleet. The luxurious 82-foot yacht with teak decking and tinted picture windows provides a more intimate venue for private parties.
2005
The 158-foot California Spirit is the latest and grandest addition to the Flagship growing fleet. Popular for large events and special celebrations, the yacht accommodates up to 600 guests and features 6 full-size restrooms, a private lounge, and 360-degree views from all three levels.
2011
The company is renamed Flagship Cruises & Events, solidifying the Engels' vision to become a premier venue for private events.
Flagship makes a significant investment in shore power. The move saves energy, reduces air pollution, and expands our ongoing commitment to preserve a clean and healthy environment for future generations.
2013
The iconic red, white and blue Patriot jet boat joins the Flagship fleet. An homage to our military community, the Patriot is the only vessel of its kind in San Diego, with turbo-charged jet engines and open-air seating for 139 passengers.
2014
Flagship brings farm-to-table to the sea. All dining and event cruises feature fresh, locally caught seafood and, whenever possible, sustainable California-farm-sourced ingredients. All meals are prepared to order onboard the ship.
2015
Flagship's celebrates its 100th anniversary! Thousands attended the party on the Embarcadero, featuring food, live music, local beer and free harbor tours.
2017
Flagship's fleet of dining, sightseeing and whale watching yachts are equipped with complimentary WiFi for guests.
Today
Flagship is San Diego's #1 most cruised fleet. With more than 1,000 departures each month — milestone celebrations and life events, corporate team building, holiday parties, yacht weddings. dining cruises, thrilling adventures, and transportation across the bay — Flagship has become the cruise line of choice for locals and visitors alike. What started as a simple ferry company has become one of San Diego's top venue for entertainment, recreation, and celebrations of all occasions.