The Flagship Ferry is a vital part of San Diego's transportation infrastructure, connecting two ports in downtown San Diego with the Coronado Ferry Landing. Each day, thousands of passengers enjoy the relaxing 15-minute ride across the bay.
Ticket Information
Tickets are $8 each way. For round trip, purchase two tickets. Children under 4 ride FREE.
Ferry tickets are good any day, any time, any route, no matter what date they are purchased.
You can purchase tickets in advance online, or at the ticket booth or self-service machines when you arrive.
Did you know: commuters can ride the ferry for free. Learn more.
Commuter Schedule Details
Morning commuters can receive a complimentary fare Monday through Friday at the noted times. Morning commuters must obtain a commuter ticket from morning ferry crew for afternoon return trip.
Notice of Scheduled Passenger Fare Change
Commuter Holidays (Commuter Ferry Does not run): Major government holidays, President's Day and the day after Thanksgiving.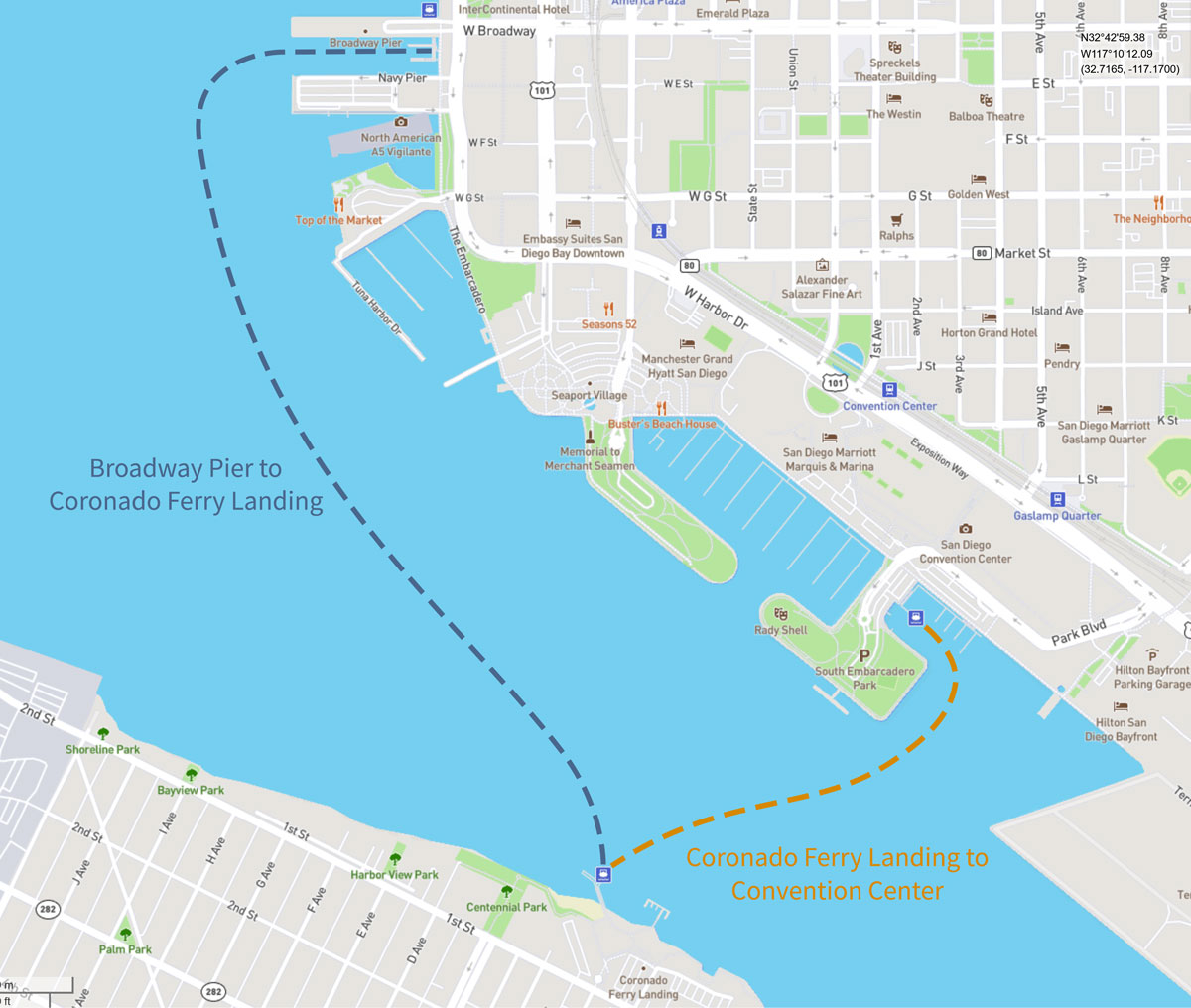 Daily ferry service between:
Ferry FAQ
Read up on essential information before you depart.
Is the ferry Wheelchair Accessible?
The vessel and interior main deck are wheelchair accessible but the exterior top deck and restrooms are not.
Are dogs allowed?
No pets are allowed on the ferry except service animals.
Are bikes allowed?
Yes! You may bring your bicycle on board with no extra charge. Note: space is limited.
Are masks required?
We prioritize safety above all else. In compliance with federal law regarding public transportation, masks are not required at this time. We will respect the preference of any guest, staff and crew member who chooses to wear a mask for any reason..
Will I get seasick?
The ferry ride is quick and smooth, and San Diego Bay waters are usually very calm. Seasick incidents are not common.
Is smoking permitted?
All of our vessels are smoke-free. No smoking allowed.
Ferry History
Ferry service between San Diego and Coronado began in 1886 and has been in service for more than 100 years. There are currently two ferries in use, Silvergate and Cabrillo. The 65-foot Silvergate, built in 1940, is currently the longest-running wooden ferry in the United States.
Operated by Flagship Cruises & Events
Local, family-owned Flagship offers narrated harbor tours and dining cruises on San Diego Bay. View all upcoming cruises.
Flagship's ferries can also be chartered for private events.
Ferry Routes & Schedule
The ferry runs daily between Coronado and two ports in San Diego, departing from Broadway Pier on the hour and the San Diego Convention Center on the half hour.
Daily ferry service between: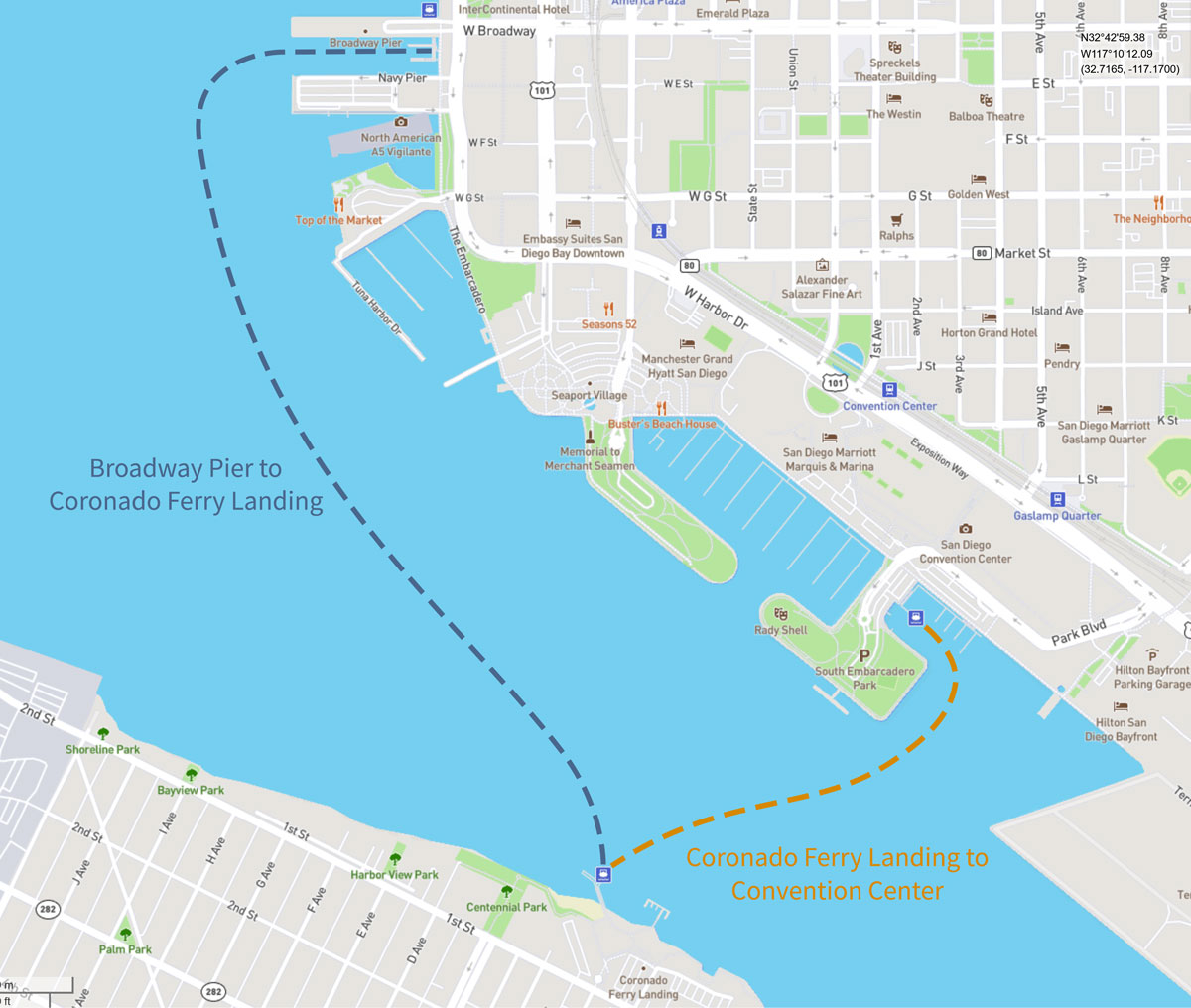 Get a live view of San Diego Bay from the Flagship Ferry Cam
Select Your Cruise
Ferry Tickets
Ferry tickets are good any day, any time, any route, no matter what date they are purchased.
| | | |
| --- | --- | --- |
| One Way Ticket | | Ages 4+ | $8.00 |
| Infant | | Children under 4 ride FREE |
Testimonials
We took our bikes on the ferry. I definitely recommend taking the ferry if you are taking a day trip to Coronado traveling by bike, foot or bus.
The ferry ride to Coronado is quick, you can't beat it. The staff were very friendly and even jovial; something you don't see too often.
A few nights on Coronado were better due to this ferry being near the train station so I could walk over with my luggage.
The experience is fabulous, especially at sunset and after dark. The views of the San Diego downtown skyline and the pleasure of being on the bay, were wonderful.