Ticket Booth & Broadway Pier Departures
990 North Harbor Drive
San Diego, CA 92101
(619) 234-4111
---
Parking Options
Metered Parking: $1.75 per hour (3 hour maximum)
USS Midway Parking Lot: $10 (up to 12 hours), open 24/7


910 N. Harbor Drive

B Street Pier Parking Lot:

Open to public when cruise ships are not in port.

$12 - $16 (up to 12 hours), $18 - $24 (up to 24 hours).

Buses & motorhomes,

$20 every four hours




1140 N. Harbor Drive

Spring Hill Suites & Residence Inn: $30 (Monday through Friday in by 10am out by 6pm)
For more information, visit the Port of San Diego Parking Map
All parking rates and information subject to change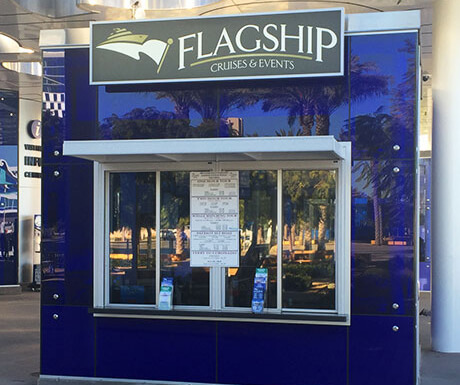 Helpful Tips
Unlike most San Diego meters, the ones by our pier extend to 3 hours, which gives you plenty of time for the full harbor tour.
After 8pm, the meters are free. Great for dinner cruises: arrive at 6:45, feed the meter for an hour and 15 minutes and you'll be set all night!
The Midway lot is cheapest option for all-day parking
Take an Uber and get dropped off right at the gate!
Public Transportation
Train & Trolley (We are just two blocks from the Santa Fe Depot Train Station & Trolley Stop)
Taxi, Pedicab & Drop-offs: Ask for the Broadway Pier
The Summer Big Bay Shuttle Service runs from Downtown San Diego to the Embarcadero and Harbor Island.