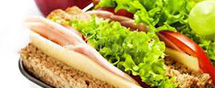 Add Lunch for $12 - Don't go hungry! Add a boxed lunch during booking. Includes roasted turkey sandwich on whole wheat with lettuce, tomato, swiss cheese and ancho chili aioli, fresh fruit, chips and cookie, and drink ticket for water, soda, juice, coffee. Must purchase in advance, no onboard sales.
SPECIAL OFFER - $99 for two adult tickets – Call (800) 442-7847 to take advantage of these special savings!
Departure Schedule
July 30 through Labor Day
Departs 9:00 AM - Returns approx. 2:00 PM
Boards 30 minutes prior to departure, all cruises are weather permitting.

Looking for gray whales? Check back this winter.
Daily gray whale excursions resume in December.
Before You Depart
In the unlikely event that your departure is cancelled due to poor weather conditions, we do our best to contact you in the morning at the phone number you provide. We will reschedule your tour if you like or provide you with a full refund—your choice.
Guests with wheelchairs can access the vessel and interior main deck. However, the exterior top deck and the restrooms are not ramp accessible.
No touching the whales. No feeding the whales. No petting the whales. This is whale watching. We watch with our eyes...
If you have any questions at all, please contact us or read our FAQ.
What To Bring
Be prepared for a five hour ride.
light long sleeves
binoculars
camera
hat
plenty of sunscreen
sunglasses
medication - If you may be prone to seasickness, plan ahead. Medication only works when taken BEFORE boarding the vessel. Wristbands for motion sickness also can be effective. Either can be purchased at our dockside gift store, the Wheelhouse Gift Shop, or most drug store.
Whale Watching Route
Off the San Diego coast, we see the Eastern North Pacific stock of blue whales. These animals are thought to spend winters off Mexico and Central America and feed during summer off the U.S. West Coast. Each whale watching excursion is slightly unique. We find the areas with high krill concentrations where whales feed to bring you up close for the best sighting spots.