Wonderfront Festival
Guide To Shuttles, Yachts and Cruises
Update: For the safety of concert attendees, artists and staff, the next Wonderfront Festival has been postponed until 2021.
Unlike most other concert festival venues, Wonderfront takes place along the water. And that's where Flagship Cruises comes in. Our fleet will play a vital role for attendees, providing transportation, refreshments and floating lounges, as well as venues for performers and VIP events.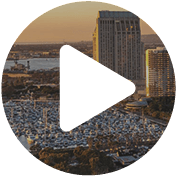 Wonderfront Festival Dates:
Wonderfront is set to return in 2021. Stay tuned for details.
What is Wonderfront?
Wonderfront is a new music and arts festival taking place along the San Diego waterfront, "where the city meets the sea."
In addition to top-tier musical acts, the 3-day festival will be brimming with local flavor, including yacht parties, a craft beer village, and exhibitions headed by Wonderfront event ambassadors Tony Hawk and surf legend Rob Machado. Wonderfront's open re-entry policy encourages attendees to explore the city and integrate iconic San Diego experiences like Flagship Cruises into their weekend.
Wonderfront Schedule
The 3-day festival is scheduled to feature a growing lineup of 100+ bands on more than 7 stages. Scheduled artists include Migos, Ben Harper & The Innocent Criminals, Slightly Stoopid, MGMT, Tyga, Busta Rhymes, Tribal Seeds, Vince Staples, Pennywise and Parquet Courts.
View Wonderfront Lineup
Wonderfront Map
The Wonderfront perimeter extends more than 2 miles around the downtown coastline, from Broadway Pier south past Seaport Village and the Embarcadero to Hilton San Diego Bayfront.
Getting Around
Flagship will provide free transportation by boat between the North and South Stages throughout the festival. The ships will service three stops: Broadway Pier, Marriott Marina and Fifth Avenue Landing, offering a convenient and unique solution to navigate crowded festival grounds.
In addition to two Water Taxis, the Flagship Party Shuttle will feature live local music, snacks and drinks during its 15-minute cruise between North and South. Shuttle service is free to festival attendees.
Venues
Flagship's finest yachts will be docked along the waterfront, accessible exclusively to festival-goers, providing an escape from the festival scene. Situated at the north and south ends of the festival, our yachts feature multiple bars and lounges, stages for performers (music and comedy), casinos, DJ dance parties, VIP viewing areas, and festival after parties.

All ships are accessible free to concert-goers, with the exception of our Quiet Heart yacht, serving as an artist lounge where entertainers can come onboard for a respite from the glare of lights and clicks of cameras.
Food & Drink
When hunger strikes, Flagship Cruises will offer multiple locations for cocktails, food and refreshments. Near Broadway Pier, California Spirit will serve breakfast in the morning and food and drinks throughout the day. At South Embarcadero, California Princess will also be docked providing food and drinks as well. Our Shuttle Service will also feature food and drinks for purchase.
All yachts feature multiple bars and restrooms, indoor/outdoor seating and free WiFi for passengers.
Entry & Re-Entry Policy
Wonderfront breaks the norm of traditional festivals which trap you into their gates for the entire day and night. Wonderfront attendees can come and go as they please. So you can catch a band then leave for a ride on the Jet Boat or take the ferry to Coronado. Regain access to the festival with your RFID bracelet then leave again for a relaxing dinner cruise.
Specific entrance locations will be available closer to the event date.
Festival Ticket Info
Tickets for 2021 are not yet on sale.
Note: Our regular public cruise schedule will be operating throughout the weekend.
Purchase cruise tickets in advance. View Upcoming Cruises